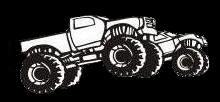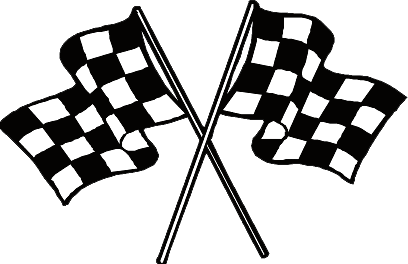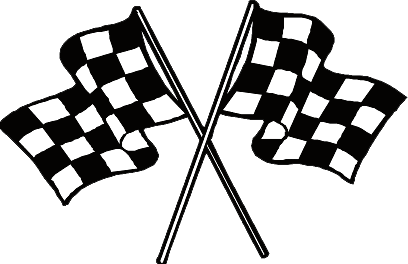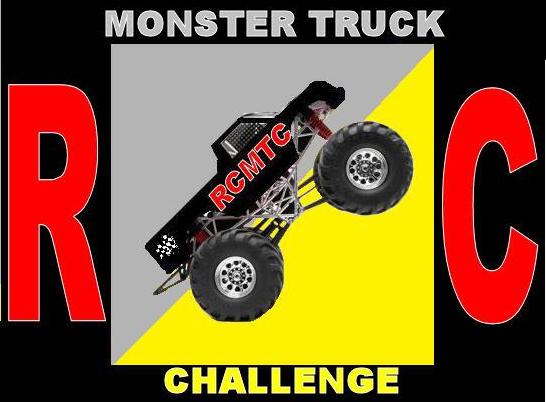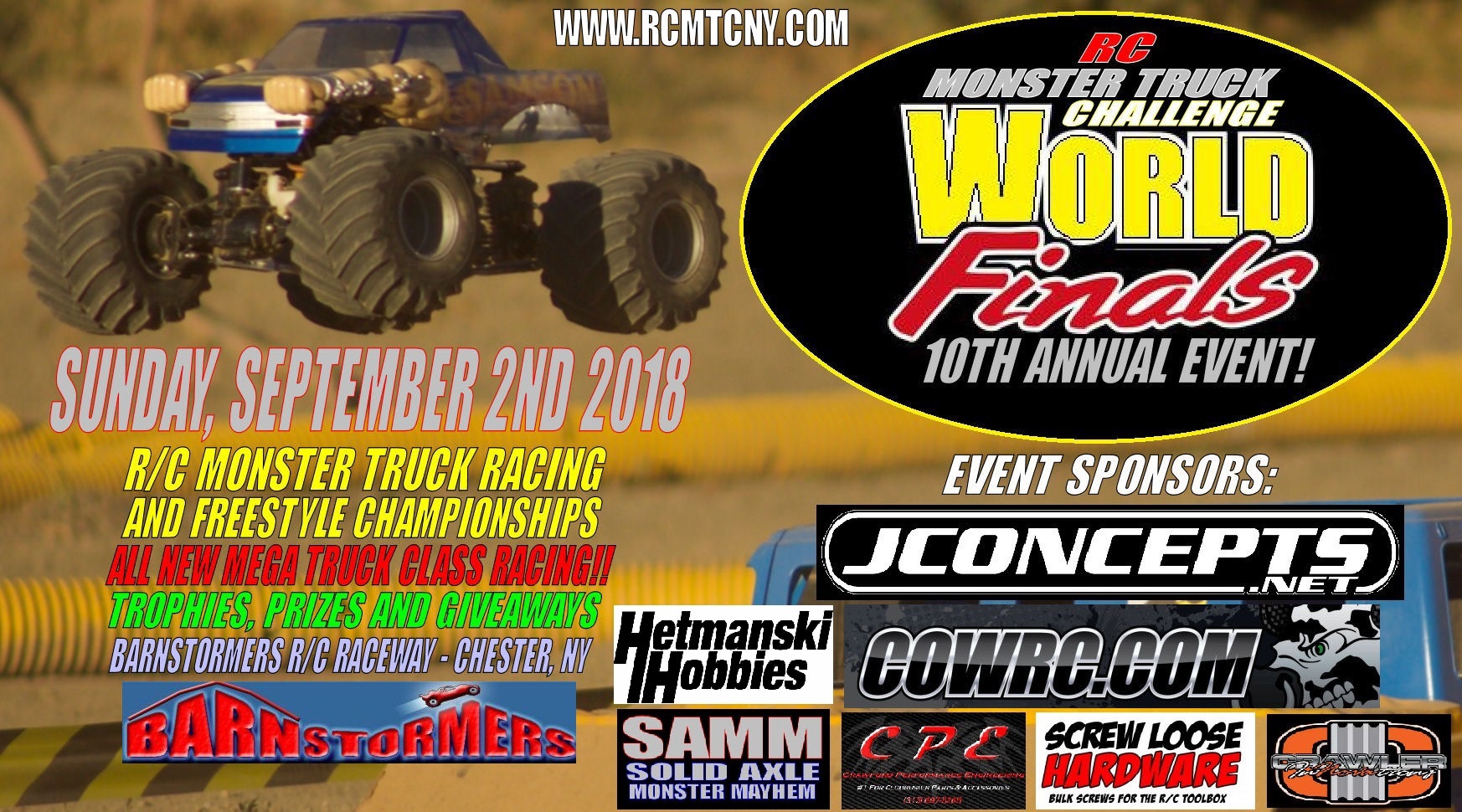 The 2018 R/C Monster Truck Challenge World Finals is celebrating 10 Years of RCMTC racing and our 10th Annual World Finals event at Barnstormers and it is going to be one big, bad and awesome celebration that you don't want to miss!! We've seen an amazing decade of racing action since the RCMTC was formed in 2008/2009, a decade that has seen so much growth an expansion in the R/C Monster Truck Racing scene across the country and the RCMTC has been a big part of that. Brett Crawford of Crawford Performance Engineering got together with the RCMTC to form the RCMTRS Rules Package in 2009. This template of racing rules and practices is present in many forms of R/C Monster Truck Racing across the country today. RCMTC chapters started in Illinois, Hawaii, Michigan, Texas and more and we saw many other awesome racing series and events such as Showtime R/C Trigger King, SoCal Monsters and New Englad R/C and we can't wait to see what the new decade will hold. The 2018 RCMTC World Finals will be the biggest we've had to date. With an awesome race track design, crazy freestyle obstacles and an all new Mega Truck racing class, the action will be insane!! There will be plenty of trophies up for grabs, awesome giveways for the 10th Anniversary event and some amazing prizes that you won't want to miss. There may even me a special surprise or two at the event.. Don't miss out on what's going to be an amazing 10th Annual World Finals event. It all goes down at Barnstormers R/C Raceway in Chester, NY at 10:00am on Sunday, Septepmber 2nd. BE THERE!!!

THE 10TH ANNUAL RCMTC WORLD FINALS CELEBRATES A DECADE OF RCMTC ACTION!!!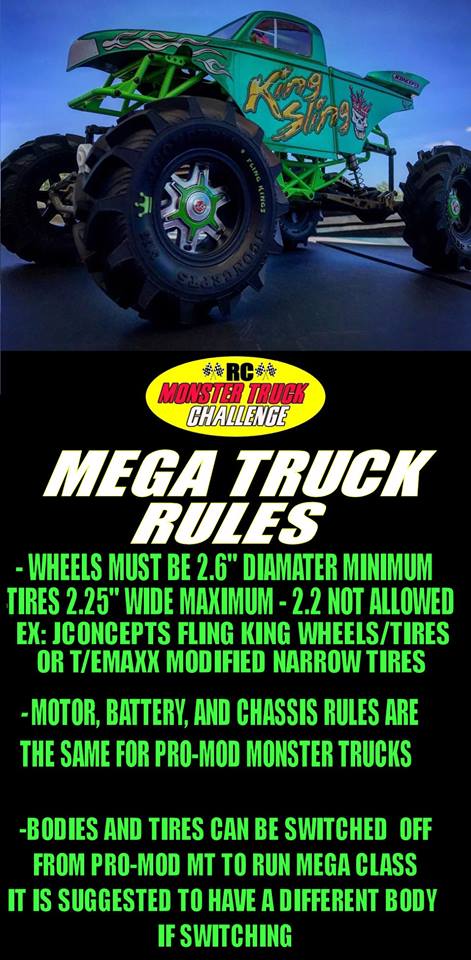 MEGA TRUCK RACING MAKES DEBUT AT 2018 RCMTC WORLD FINALS

New for the 2018 RCMTC World Finals is the all new and awesome JConcepts Mega Truck Class!! This class was inspiried by some of the new and awesome JConcepts Mega Truck products such as their King Fling Wheels and Tires and the King Sling truck body. Shown above are the rules for the class and some drivers are already getting creative with their special Mega Truck designs. We have a fun track planned for the Mega Trucks including an challenging mogul pit!! We can't wait to see these awesome machines out on the track.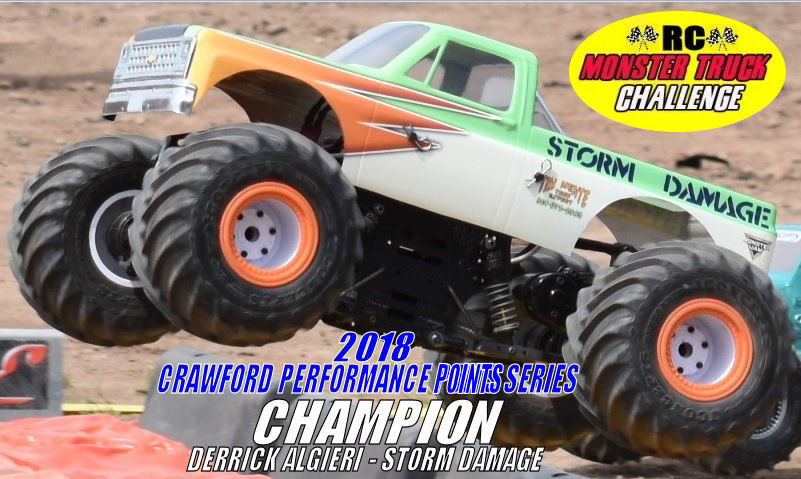 DERRICK ALGIERI AND STORM DAMAGE WIN 2018 RCMTC SERIES CHAMPIONSHIP

Derrick Algieri was nothing but dominant in which was an extremely competitive and hard fought Points Series in 2018. The Championship for Derrick is his second in a row and fourth overall RCMTC Championship, he also won the Points Series in 2012 along with the RCMTC World Finals Racing Championship also in 2012. The 2018 season started out with Kyle DeFalco winning back to back events, Round 1 wih Pure Adrenalin and Round 2 with Executioner, looking early like it was going to be a dominating year for Kyle as he has done in years past. When the tour headed outdoors for Round 3, Storm Damage started to show real strength. In what Derrick calls one of his least successful tracks, Storm Damage knocked out Kevin Adair's Spiderman in the PENDA Straight Drag racing finals. Kyle was able to fight back in Round 4 with Executioner, sweping all 3 podium spots and winning the event with Executioner, taking the lead for the points and setting up what would be the battle for the championship in 2018, Executioner first Storm Damage. Round 5 saw a return back to indoor carpet racing due to rain outside and what an awesome event as we saw Pete Paquette in Doomsday get a long time coming well deserved breakout win over Tom Greathouse in the racing finals. A fourth place finish for Storm Damage and a quarter final round loss for Executioner tightened the gap back up. Rounds 6 and 7 is where Storm Damage was able to take over. Derrick won both events, and sercured the 2018 Championship at the season finale. We here at the RCMTC along with all the drivers and fans following us along the way would like to congratulate Derrick on a job well done, we are beyond proud and happy to have him as our champion again this year!!